Index of contents:
Summer 2021: Opening of restaurants and tourism
Undoubtedly, the hospitality, restaurant, hotel and cafeteria sector (HORECA) has been one of the sectors that was most affected by the crisis caused by COVID. Now, after so long, comes one of the most anticipated moments since the pandemic began: the opening of the HORECA sector.
Along with the opening up of this sector, we have the lifting of mobility restrictions, which finally makes it possible to take those trips that were left pending. Airlines, railways and bus fleets… are eager to receive their passengers.
Thanks to massive vaccination and the elimination of restrictions, the beginning of the recovery of both sectors can be seen and at Laystil we are very happy about this.
We protect your establishment and your customers with Non-Woven products
We are aware that the situation of the pandemic has improved remarkably since it began, but even so, we consider that it is essential to continue maintaining high levels of protection in all establishments, especially in those as crowded as hotels, restaurants, bars, cafeterias, airplanes, trains and buses.
At Laystil we offer you products specially designed for the HORECA sector that guarantee the hygiene of your establishment and ensure the safety of your customers.
They are all of excellent quality, made with single-use Non-Woven Fabric and customisable. In this way, during the next holidays, your clients can enjoy themselves without having to worry about their protection – we take care of it. Below, we show you a series of products 100% recommended for hotels, restaurants and cafes.
Disposable placemats and table runners
Turn your establishment into a COVID free space with disposable placemats for the hospitality industry. These, together with Non-Woven table runners, are ideal for the current situation of the reopening of the HORECA sector, since they offer a hygienic solution that guarantees the protection of customers.
In addition to the high quality of the material, these restaurant tablecloths and table runners are recyclable and, unlike cotton tablecloths, you do not need to use the washing machine and you save time, water and energy.
You can choose from a wide variety of colours and they can be personalised with the corporate image of your establishment – you can even have the COVID safety measures printed on the tablecloths as a reminder of the establishment's hygienic measures.
We furnish this product on a roll, pre-cut every 30 centimetres, so it can also be used as a placemat or as a table runner. This latter option is perfect for decorating tables in a more elegant and original way.
Disposable seat protectors
Designed mainly for seats in the common areas of hotels or events, these are individual and single-use products; in this way each customer uses a seat protector only once and contact between them is avoided to prevent COVID. For this reason, Laystil Non-Woven seat protectors are the perfect product to guarantee optimal hygiene and safety for customers.
In addition, these seat covers are made with 70% recycled material and take up hardly any space in your warehouse. Find out more details here.
Ecological drinking glass covers
Laystil's drinking glass covers are the perfect solution for maintaining hygiene and correctly complying with all the safety measures in your establishment. In this way, you will be able to turn your business into a COVID-free space, where your customers will feel safe and at ease.
By being customisable, you can use them to confer greater visibility to your brand with corporate drinking glass covers.
They are made of cellulose or Kraft paper, so they comply with ecological standards and are 100% recyclable.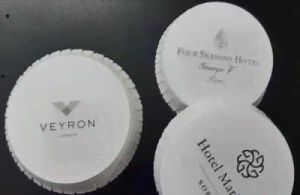 Bandas sanitarias para baño
An important part of your establishment is the bathroom. So that your clients and customers may be aware of the good hygiene levels on your premises, we recommend the use of sanitary toilet strips. We have several models available, all of which can be customised.
Protect the hygiene of your passengers with Non-Woven products for transport
Good weather, holidays just around the corner and the end of mobility restrictions mean that the passenger transport sector must get ready in terms of hygiene and safety for the prevention of COVID.
With the current situation, the necessary security measures to prevent COVID are added to the usual prevention protocols. At Laystil we facilitate this process, designing special products for the preservation of hygiene inside trains, airplanes, buses … to make them a COVID-free space.
We present two of our star products for the passenger transport sector: headrest covers and blankets.
Single use headrest covers
Guarantee optimal hygiene in your transport fleet with Non-Woven headrest covers. Using this product is an additional safety measure to those already taken by our customers, to avoid the spread of COVID among passengers.
There are many characteristics that make this product the best solution, among which are:
It has a fastening system that adapts to any type of seat using string, Velcro or self-adhesive.
It has passed the most rigorous hygienic control to offer the highest quality to your customers.
100% customisation; measurements, printing (to enhance your company's corporate image), colours and fastening system.
We have incorporated a standard print to block seats.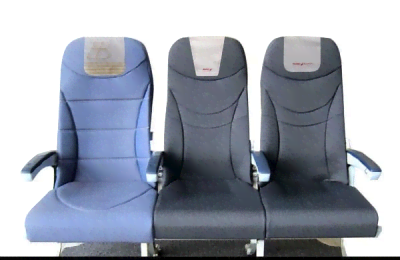 Disposable blankets for passenger transport
Make sure that your long-distance clients travel in the greatest comfort thanks to our Needle-punched transport blankets.
Non-Woven disposable blankets are the perfect solution to guarantee the new safety measures required by COVID in your transport fleet. As they are individual blankets made of needle punched fibre, the possible spread of the virus among passengers is avoided.
Our single-use travel blankets are hygienic, as well as very comfortable and exceptionally soft and light. In addition, this product is 100% customisable and can thus be adapted to the corporate image of your company.
When will I receive my non-woven products for my establishment/passenger transport?
One of the main advantages of trusting Laystil for the manufacture of your non-woven fabric products is the speed and agility with which we work. We respond very quickly to your request, in fact, nearly 100% of our quotes are sent in less than 48 hours.
Would you like to know more about how to use Non-Woven products in your sector? Contact us, we will be delighted to inform you and help you find the solution that best suits your needs. You can also call us or send us an email. We are waiting for you!
This summer let's make the reopening of restaurants and tourism a success by guaranteeing the hygiene and safety of your customers.