Headrest Covers, a marketing tool
Have you ever considered that a product such as a headrest can be used as a marketing tool? Although it may seem to be just a product for protection, it is not and it offers many possibilities.
Our disposable headrests are made of flame retardant polypropylene or viscose non-woven fabric, are for single use only and are designed for personal hygiene and seat protection.
It is a very versatile product, as it can be used in different places and for multiple sectors and has a great advantage: it can be customised with the corporate image of the brand, company, event, photograph…
In this article we will talk about some of its main uses and how you can use this product as a marketing tool by incorporating it into your branding strategy.
Improve your branding
Yes, you read that right, personalised headrest covers are a very useful tool to improve branding. Something as simple as customising this protective cover on the seats of any theatre, auditorium, cinema, waiting room, in short, for any event and any type of seat… will give your customers a better impression of your brand image.
Our non-woven headrests offer multiple customisation possibilities. You can choose the size you need to best suit your seats, the design you want to print (logo, brand, slogan, event name, etc.) and the fastening system you prefer (thread, Velcro or self-adhesive).
Implementing branding actions, such as customising products with your corporate image, has many advantages. Let's take a look at some of them:
Increases recognition among your customers
Contributes to customer loyalty and loyalty to your brand
Captures attention and attracts potential customers
Builds trust
It is ideal for promoting new products or services
Uses of headrests
Headrests can be used in any sector, but are particularly popular in transport, promotion, healthcare and hospitality. Let's look at the reasons for each sector:
– Transport: Probably the sector where you've seen these little covers most often is in transport. When boarding a plane, train or coach, you've probably seen all the seats or seats with a corporate headrest of the company.
TNT's transport headrests are ideal for ensuring passenger hygiene, as they are disposable and comply with rigorous hygiene control.
Another advantage of our non-woven headrests for transport is that they have a fastening system that adapts perfectly to any type of seat or armchair. This adaptation is made by means of velcro, self-adhesive or thread.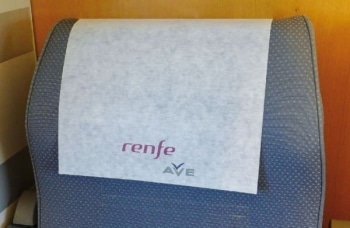 See all the technical characteristics of the TNT headrests for transport.
– Promotion: Using headrests at promotional events is a great idea. Corporate events, musical events, congresses, fairs, festivals… Whatever the type, headrests are a must-have item. Why?
It is a 100% customisable product, so in addition to guaranteeing the hygiene of the attendees, it will also help to enhance the corporate image of the event, its sponsors and organisers.
It is a safety and hygiene measure. As we mentioned in the previous point, there are events where the number of participants is high. It is therefore essential to ensure the safety and hygiene of all attendees by using this protection on all available seats.
These protective covers prevent the fabric, leather, leather or velvet of the seat or armchair from getting dirty. This is extremely important, as there are centres where many events are organised and a large number of people attend.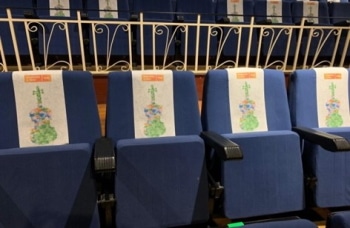 See all the technical characteristics of the promotional headrests.
– Hotels: Imagine all the armchairs in your hotel lobby with personalised headrests with your corporate image applied. An easy and simple way to convey professionalism, hygiene and safety to guests. TNT headrests for hotels can also be used for meeting or conference rooms in the hotel.
We can adapt the measurements to fit the seats in your hotel, and they also have a self-adhesive fastening system so there is no need for the seats/chairs to have Velcro sewn on. They adapt perfectly to any type of seat and take up almost no space, making them very easy to store.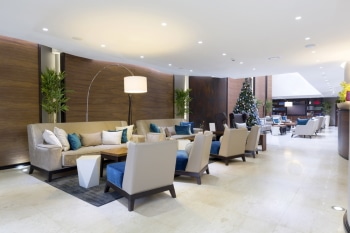 See all the technical characteristics of headrests for hotels.
– Healthcare: Waiting rooms – in addition to couches and chairs for patient care and treatment – in hospitals, health care centres and even nursing homes are some of the most suitable places for the use of our TNT healthcare headrests. This also applies to aesthetic medicine centres.
These sanitary headrests are ideal for ensuring patient hygiene, as they are disposable. This is an extra safety measure for patients and visitors to the centre, which they are sure to appreciate.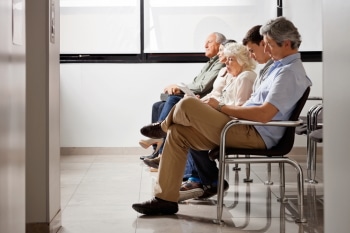 See all the technical characteristics of the healthcare headrests.
Specialists in product customisation
Not only is this one of our specialities, but we also have many years of experience in customising TNT products for different sectors. We offer different possibilities to customise all our products. Visit our website and you will find our customisable products.
Would you like to know more about our customisable heads? Contact us, we will inform you about what you need.