Not so long ago plastic bags dominated the world of shopping. They were cheap, practical and widely used. But -like everything in life- trends change, and nowadays personalised paper bags are a firm bet on the part of a large number of brands. In this post we tell you all about these eco-friendly and versatile bags; and the reasons why they are conquering the market.
What are the main advantages of personalised paper bags?
Environmentally friendly: Paper bags are biodegradable and recyclable, which means they won't end their useful life polluting our oceans and landfills for years like plastic bags do. Plus, with the growing awareness of sustainability, using customised paper bags shows your commitment to a greener, more environmentally friendly future.
Increased durability: Paper bags are much more durable than they may seem. Their durability is due to the inherent strength of the cellulose fibres that make up the paper; they are intertwined during the manufacturing process which allows them to have a strong structure capable of supporting weights.
Great versatility: Personalised paper bags are not only ideal for sales, they are also perfect for events, trade fairs and any occasion where you need to present gifts or samples. They are also available in different sizes and styles, making them suitable for almost any purpose.
Branding: Want your business to stand out? Personalised paper bags are a great way to promote your brand. You can print your logo, slogan or design on them, which will not only increase the visibility of your business, but also leave a lasting impression on your customers.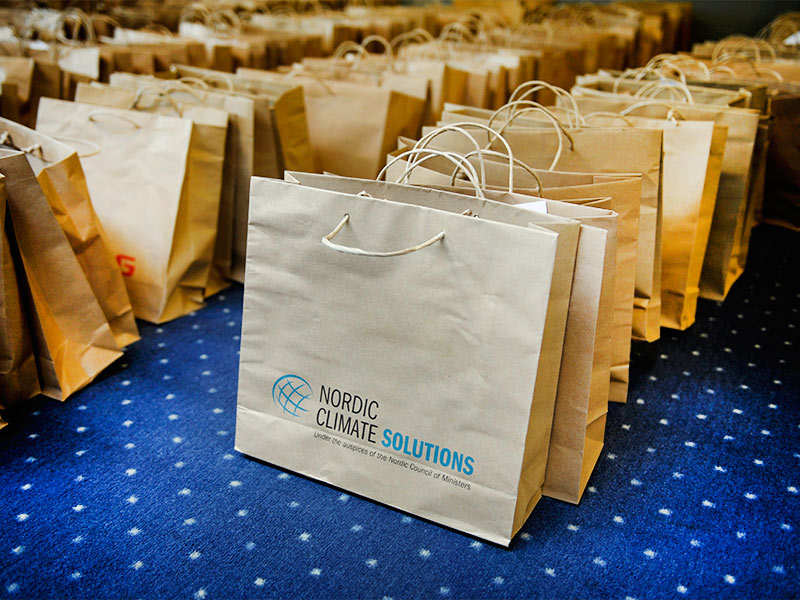 Personalised paper bags: A world of options
While personalisation is key, it is also important to choose the right style and size of bags for your needs. Some options are:
Kraft paper bags: These natural brown paper bags are a classic. They are ideal for businesses looking for a more natural aesthetic. Personalisation on kraft bags gives an authentic and attractive touch.
White paper bags: If you're looking for a cleaner, more elegant look, white paper bags are an excellent choice. They are perfect for clothing boutiques, gift shops, events, anything you can think of. You can print your logo in different colours for added effect.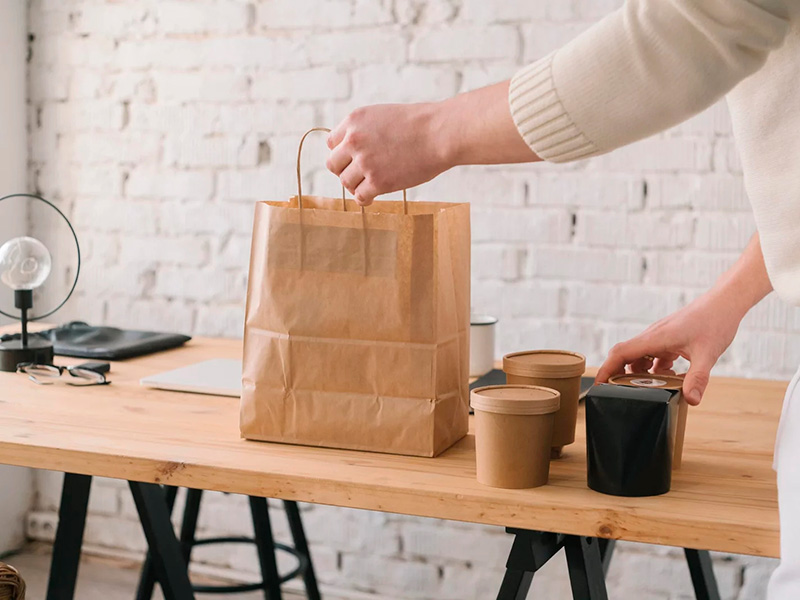 Personalise your paper bags through digital printing
Personalising paper bags offers a number of advantages for both businesses and consumers. Here are a few reasons why personalising paper bags can be a beneficial strategy:
Branding and visibility: personalised bags act as an extension of a company's brand identity. By carrying the company's distinctive logo, colours and design, the bags become an effective form of advertising. When customers carry these bags elsewhere, they are indirectly promoting the brand.
Professionalism and credibility: A personalised paper bag conveys a message of care and attention to detail. It reflects that the company is committed to quality and values the customer experience. This can contribute to a professional and trustworthy company image.
Differentiation in the marketplace: In a competitive marketplace, bag personalisation can help to stand out and differentiate from the competition. A unique and attractive bag can be a deciding factor for a customer to choose one company over another.
Customer loyalty: A personalised bag can become an object appreciated by customers. If attractively designed and produced with quality materials, it can foster customer loyalty and keep them coming back to the shop.
Environmental message: Personalising paper bags can also be a way to communicate a company's commitment to sustainability and environmental responsibility. Including messages or logos related to green practices can positively influence the perception of the company.
Versatility and adaptability: Customised paper bags can be adapted to specific events or promotional campaigns. For example, during festive seasons, themed bags can be designed to generate greater interest and appeal to consumers.

Customer experience: Personalisation can contribute to a more memorable and rewarding shopping experience for the customer. By receiving a unique and special bag, customers can feel more valued and appreciated.
Promoting values and messages: Through personalisation, companies can convey messages, missions or values that they deem important. This can include slogans, inspirational quotes or messages in support of social causes.
If you are interested in purchasing white paper bags or customised Kraft paper bags for your business, please do not hesitate to contact us.